2009年4月,英国《星期日电讯报》就经济危机下的择偶问题,采访了世纪佳缘CEO龚海燕。以下是报道原文:

China's singletons turn to love instead of money as financial crisis bites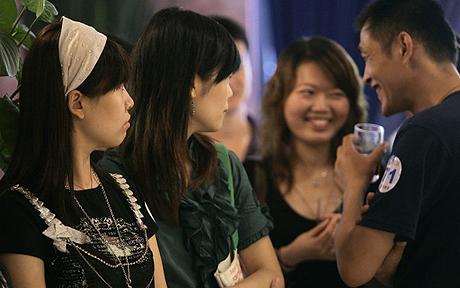 Some matchmaking websites are reporting a 40 per cent jump in the number of middle-class women registering with them since last September, when global markets began to unravel. But, unlike the heroine of Bridget Jones's Diary, China's singletons are looking for security as much as they are seeking Mr Right.

After years of being single and concentrating on her career in advertising, 35-year-old Qin Yu signed up with a matchmaking agency in October. "My investments in the stock market dropped a lot and work hasn't been so busy since the financial crisis," said Miss Qin, who owns an apartment in Hangzhou, a city on the east coast near Shanghai.

"That made me depressed and I thought it was the right time to do something about my personal life."

She knows precisely what sort of man she wants and his looks are not important. "He needs to be someone who is responsible and takes care of his parents, three to eight years older than me with no children," she said. "He has to have a stable job, like a schoolteacher. That's my first priority. Usually, these kind of men are well-educated and don't have bad habits like drinking and smoking."

Miss Qin is typical of the career women who have been flocking to matchmaking agencies in recent months, according to Gong Haiyan, the CEO and founder of the Beijing-based Jiayuan, which with more than 17 million members is the largest matchmaking agency in China. "The economic crisis has made a lot of women panic. They've discovered that finances and careers can be unreliable," said Mrs Gong.

There has been a 40 per cent increase in the number of women signing up with Jiayuan since the financial crisis took off last September. The majority are graduates earning around 36,000 Yuan (£3,800) a year, far in excess of the 25,000 Yuan (£2,600) that is the average income of China's city dwellers. "Most of our clients work for joint ventures and foreign companies, especially in the media, IT and financial sectors," said Mrs Gong.

Other matchmaking companies are flourishing too. Hongniang, an agency in Hangzhou with more than one million members, has recorded a 20 per cent increase in professional women registering with them in recent months. "The economic crisis has not only had a financial impact, but an emotional one," said Cao Lei, Hongniang's spokesman. "Women like to live in a stable environment and have somebody to share the stress of life with."

Singletons are a new phenomenon in China, where women are traditionally expected to be married by the time they are 30. But with proportionally more women than men now graduating from universities, there are more and more financially independent women in the big cities. Many complain that it is difficult to find a suitable partner.

"There are a lot of women in my situation," said Zhu Aijun, a 32-year-old office manager for a foreign company. "Every time I've been to a matchmaking event, I've noticed there are always more professional women than there are men."

Miss Qin believes the fault lies with the men themselves. "A lot of middle-aged men are only interested in young girls in their twenties," she said.

Others say the surfeit of successful, single women is because they have become too choosy and will not consider marrying men who are less successful than they are. "I can't say I don't care about that," said Miss Zhu. "It's OK in the short-term if he earns less than me, but he has to be ambitious."

But now some women are lowering their sights. "Women have become more realistic since the financial crisis," said Mrs Gong. "They've realised that men whose incomes might not be as high as theirs, but with stable jobs and a relatively high social status, like university teachers and engineers, are a much safer option in these times. A lot of very rich men have seen their fortunes drop, or even gone bankrupt,"